William + Catherine + Harry
The Duke & Duchess of Cambridge & Prince Harry talk about their goal to shine a spotlight on the power of conversation and discuss bereavement, modern childhood, and dealing with trauma in the workplace. Prince Harry said, "when you speak peoples families and to kids you think 'wow' I don't want them to have to go through the same things; with a little bit of experience you want to help as much as you can"
Lady Gaga + Prince William
In their FaceTime call, The Duke and Lady Gaga discussed how opening up and having conversations about mental health is vital to ending the stigma that still surrounds these issues. Lady Gaga said she felt people with mental health challenges were 'not hiding anymore' and the The Duke added that it is time 'to feel normal about mental health – it's the same as physical health' and that good conversations can 'really make such a difference.'
The Duchess Launches Mentally Healthy Schools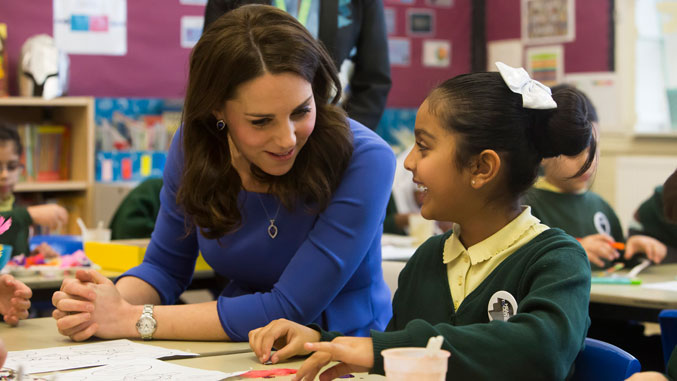 The Duchess of Cambridge launched 'Mentally Healthy Schools', a new initiative from the Heads Together campaign to support children's mental well-being.

'Mentally Healthy Schools' will be a free and easy to use website for schools, drawing together reliable and practical resources to improve awareness, knowledge and confidence in promoting and supporting pupils' mental health.
Military Mental Health
The Duke of Sussex, Prince Harry and Defence Secretary Sir Michael Fallon launched a new partnership to improve the mental health of current and former Armed Forces personnel.

Heads Together works with charity partner Contact, a collaboration of military mental health charities and organisations. Through this work, we have seen a need for servicemen and women to feel more able to talk about their mental health.
2018 Virgin Money London Marathon
Did you win a place in the 2018 London Marathon ballot?
If you did then we would love you to join #TeamHeadsTogether and help us change the conversation on mental health.
Click the button below to find out more.
If you did not get a ballot place but would like to run for mental health, you can apply for a charity place with one of our charity partners. Visit the Get Involved section of the website to find out more.
I have a ballot place
ABOUT HEADS TOGETHER
Through our work with young people, emergency response, homeless charities, and with veterans, we have seen time and time again that unresolved mental health problems lie at the heart of some of our greatest social challenges.
Too often, people feel afraid to admit that they are struggling with their mental health. This fear of prejudice and judgement stops people from getting help and can destroy families and end lives. Heads Together wants to help people feel much more comfortable with their everyday mental well being and have the practical tools to support their friends and family.
Being the 2017 Virgin Money London Marathon Charity of the Year was the perfect springboard for the Heads Together campaign. Seeing hundreds of runners hitting the streets of London during the marathon to end the stigma and change the conversation on mental health once and for all was incredible!
The Duke of Cambridge
The Duchess of Cambridge
Prince Henry of Wales
CHARITY PARTNERS
Heads Together brings together The Royal Foundation in partnership with inspiring charities that are tackling stigma, raising awareness, and providing vital help for people with mental health challenges.
READ MORE ABOUT our charity partners