We are proud to be a part of Mental Health Awareness Week, and support the incredible work of our charity partners and other individuals and organisations working to change the conversation on mental health.
And we kicked it all off with the Mental Health Minute. For the third year running, we teamed up with Radiocentre and at 10:59 on Monday the 18th of May, the Mental Health Minute played to over 20 million people across every radio station in the UK.
It was the biggest year yet, with more stations involved than ever before and an incredible group of people sharing this important message.
The Duke and Duchess of Cambridge were joined for the one minute message by England captain Harry Kane, singer-songwriter Dua Lipa, two-time heavyweight champion Anthony Joshua, and actor David Tennant, as well as inspiring mental health advocates, ambassadors and volunteers from our charity partners who all came together to voice this important message.

"If you're struggling, it's important to talk about it. Or if someone you know is acting differently, it's OK to ask how they are. Use this moment to send a message." – The Duchess of Cambridge
Through the Mental Health Minute, we want to remind everyone that whoever you are and whatever you're going through, we're all connected and you are not alone.
It's important you know that it's ok to reach out for help if you need it, and our charity partners are there for you.
Talk to someone about how you're feeling

If you're feeling anxious, worried, or stressed, and want to talk to someone but don't know where to turn, SHOUT are always here for you. Their fully confidential, free text service connects you with a trained crisis volunteer who is there to support you.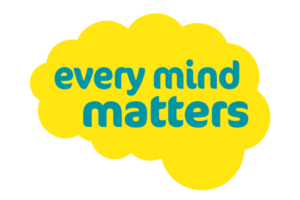 Self-care and self-kindness cannot be overvalued in these difficult times. If you're looking for tips and advice for looking after your mental wellbeing, try getting a personalised Mind Plan from Public Health England's Every Matters platform. Designed specifically to help manage your mental wellbeing during coronavirus, it includes a tailored COVID-19 Mind Plan, COVID-19 specific content for individuals and their loved ones, and support for specific mental wellbeing issues such as anxiety, stress, low mood and trouble sleeping.
Get your personalised Mind Plan