Join the conversation this Mental Health Awareness Week 2017
The Mental Health Foundation has hosted Mental Health Awareness Week since 2000, and the purpose is to highlight and promote a universal public mental health message. In previous years, they have examined how anxiety, sleep deprivation and relationships can impact on our mental health. This year the focus is on 'surviving or thriving?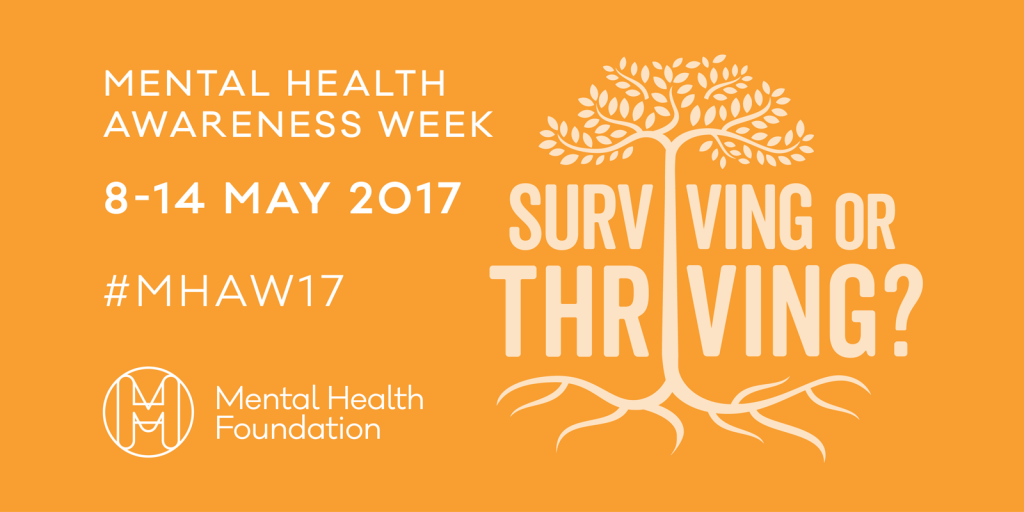 Join us in supporting The Mental Health Foundation and shining a light on mental health this week. There's lots of ways you can get involved find out more by visiting their website.
Here's what is happening in our network of 8 charity partners
Anna Freud 
The Anna Freud Centre is a children's mental health charity with over 60 years' experience of caring for young minds. Our vision is a world in which children and their families are effectively supported to build on their own strengths to achieve their goals in life. We work with a wide range of different people from children, young people and families and students to academics, doctors, teachers, mental health professionals and policy makers. In the past it has been challenging to find a simple way to tell our message to all of these audiences.
Find out more in this video:
The latest podcast in their Child in Mind series, this time focusing on medication, will go live on Monday. The episode sees Maisy, one of our Young Champions, in conversation with expert Dr Peter Hindley and presenter Claudia Hammond talking about ways treatment options for depression. Listen in here https://tinyurl.com/muooqyx
CALM
The Campaign Against Living Miserably (CALM) is dedicated to preventing male suicide, the single biggest killer of men under 45 in the UK.
This week to coincide with Mental Health Awareness Week is The CALM Photography movement  which aims to provoke discussion on masculinity and mental health, as well as raise awareness and funds for CALM. Scott Shillum and Steve Wallington, both of whom have lost family and friends to suicide, have founded the Calm Photography Movement with support from our partners Topman and Lynx. Find out more here 
Watch Calm's #oktosay film here:
Contact
Contact is a group of charities working with the NHS and the MOD. Making it simpler for the military community to find support with their mental wellbeing.
Prince Harry – "The collection of service charities known as Contact, is a working group that is seeking for better pathways for care. Charities are coming together, and agreeing that not one solution will fit all."
Place2be
Place2Be provides emotional and therapeutic services in primary and secondary schools, building children's resilience through talking, creative work and play. Find out more about their work with schools
Best Beginnings
Best Beginnings is a charity working to give every child in the UK the best start in life.
Recently Best Beginnings launched a new films series called 'Out of the Blue'  to help take the country to the Tipping Point where everyone knows that mental health is as important as physical health. Find out more
Mind
Mind provide advice and support to empower anyone experiencing a mental health problem. We campaign to improve services, raise awareness and promote understanding. Find out more
The Mix
The Mix is the UK's leading support service for young people. They are here to help you take on any challenge you're facing – from mental health to money, from homelessness to finding a job, from break-ups to drugs. Find out more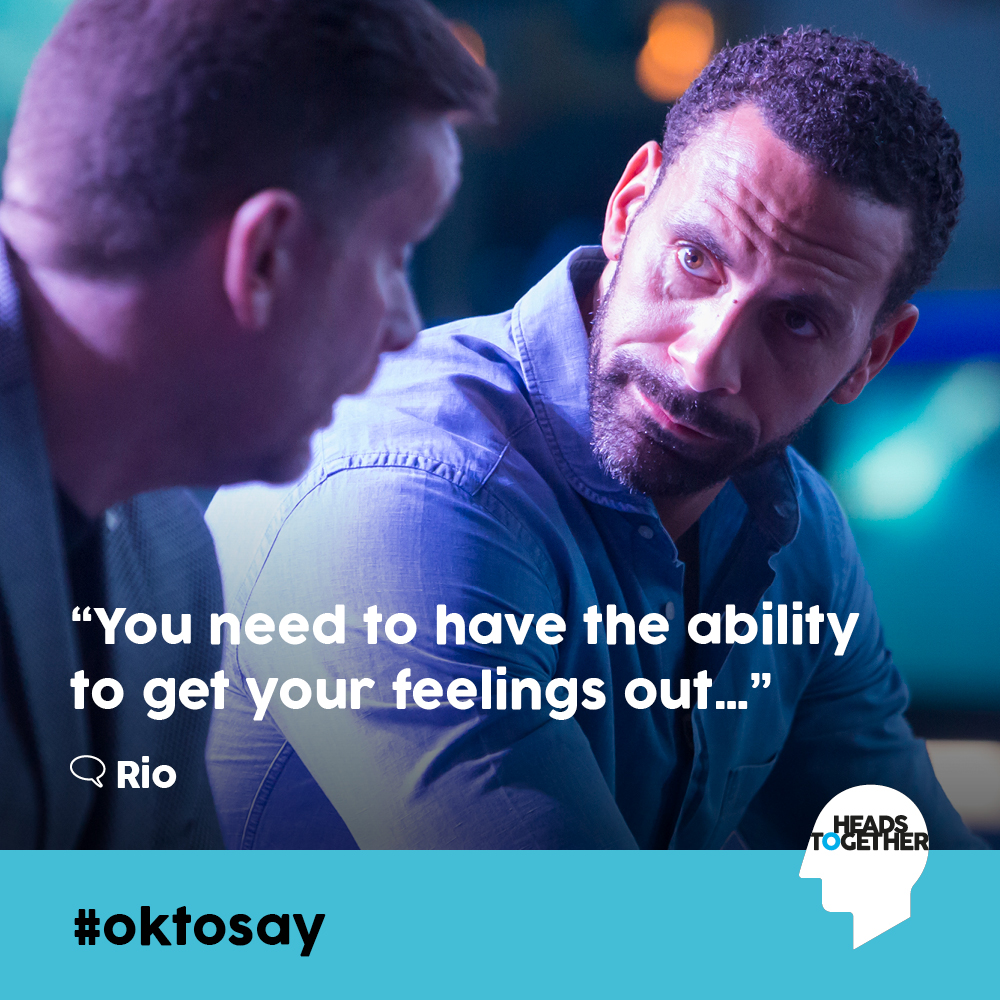 Heads Together #oktosay Films
The Duke and Duchess of Cambridge and Prince Harry released films as part of the Heads Together mental health campaign. The films feature people from all walks of life talking, often with the person that they first opened up to, about the life changing conversation that helped them cope with their mental health problems – from anxiety, alcoholism and depression through to loneliness, trauma and bereavement.
Watch and share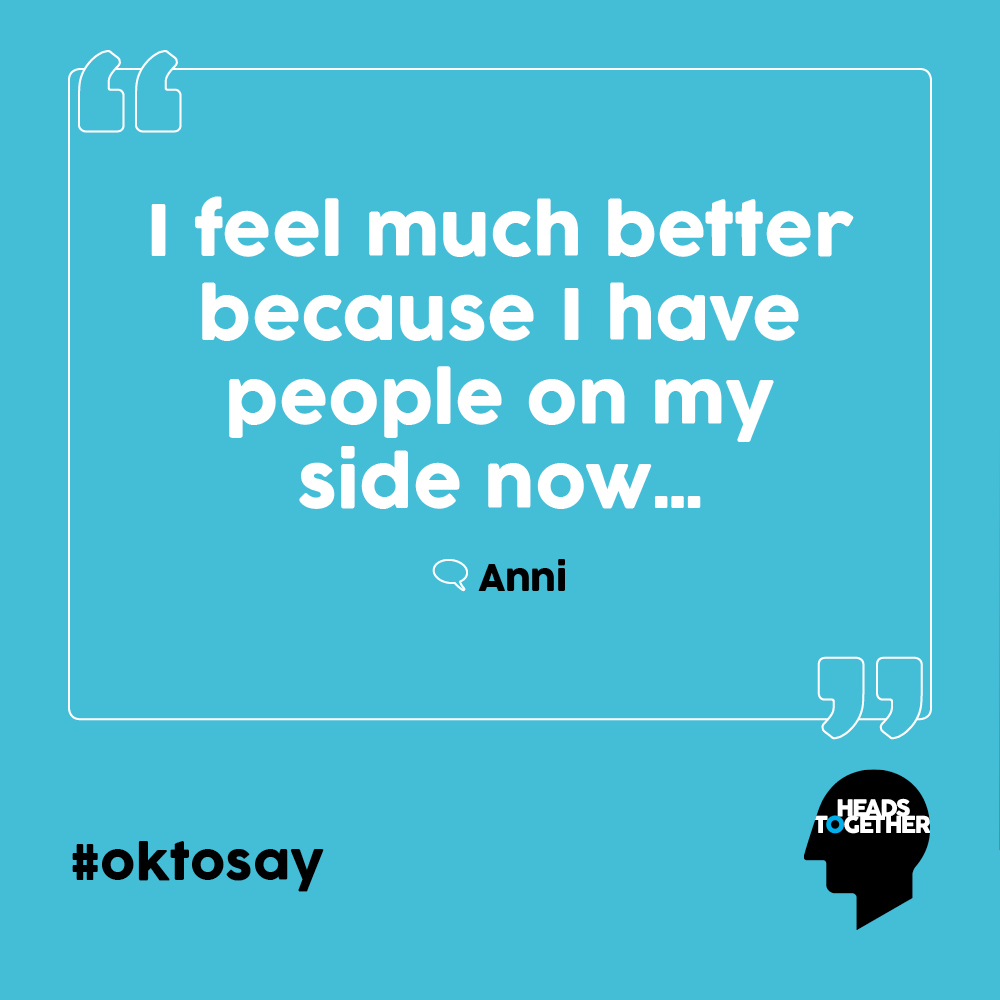 What support is available?
Many of our Heads Together partners, and many other organisations, run confidential helplines and online services staffed by volunteers who can relate to the difficult times you or someone you know may be going through. See below for support that is available to you.
Find out what support is available