Runner Stories
Team Heads Together have been leading the way to change the conversation on mental health.  Each runner in the team had a different reason to run the London Marathon.
Here you can discover more about their inspirational stories and what motivated them to take on this challenge.
Team Heads Together Blogs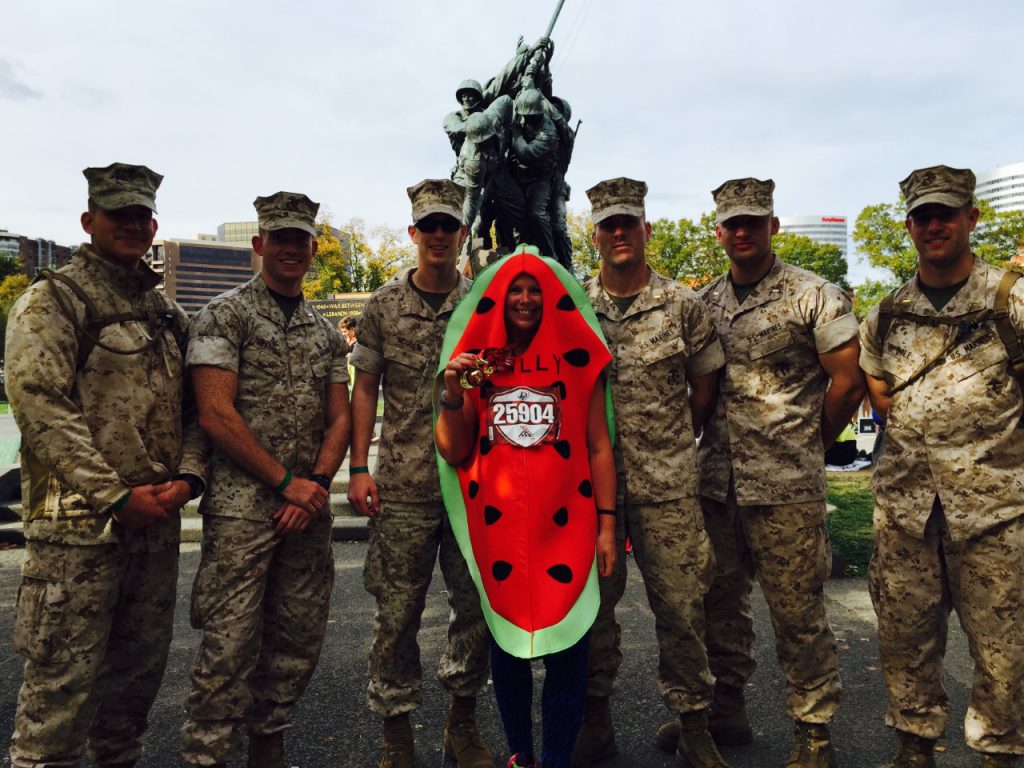 "This will be my 10th anniversary of running the London Marathon and Team
Endeavour Running Club has inspired me to run for mental health this year.  I wanted to run for Heads Together because I feel it's so important to work towards breaking down the stigma that surrounds mental health.  Recently I was having a conversation with someone who was suffering from depression who told me that they wished they hadn't come back from Afghanistan. Then they wouldn't have to put their family through the trauma of knowing that they want to take their own life but at the same time they would no longer have to live with the daily battle of incessant negative thoughts going on in their head." – Sally Orange, Running for Team Heads Together
Read more about our inspirational Team Heads Together runners  >
Gareth & Jeroen conversation
When Gareth is upset he wishes he was 'normal', but his friend Jeroen tells him that "it is normal to be the way you are, and we love you for being the way you are"
Brooke & Emma conversation
Brooke uses her friend Emma as a pillar of strength. Brooke has struggled with her mental health since the age of 6 when she first realised she had an eating disorder. Everyone has different ways to cope with their mental health – for Brooke, it's her sense of humour and Emma has always been there to make her laugh when she needs it most
Amy & Emily conversation
After being in an abusive marriage, Amy found the conversation about her mental health really difficult and was afraid to tell anybody how she was feeling. Amy found the strength to phone her friend Emily in the middle of the night to confide in her, and this really saved her life. We are proud of you too Amy 💙
Dean & Wayne conversation
"The hardest part was sending the first message, but once I had sent it the ball was already rolling". Dean talks with his friend Wayne about how he now feels more confident to discuss his mental health because it's #oktosay
Amy's Reason To Run
Amy found her release in running. She is proud to be running for Best Beginnings to help other people realise it's #oktosay because talking about mental health helped save her life. Good luck with the marathon Amy!
Gareth's Reason To Run
Gareth has struggled with mental health for a long time, but being able to start a conversation and talk about it has been easier for him since training for the marathon. He will be running for CALM to help others start their journey. Thank you Gareth!
Emily's Reason To Run
Emily wants to help raise awareness and remove the stigma around mental health after losing her son to suicide two years ago. She will be running for Heads Together to actively try to change the way people see and deal with mental health. What an inspiration you are!
Karl's Reason To Run
Being ex-military, Karl is able to lean on his fellow veterans for mental support. He will be running his 151st marathon for Heads Together because he believes the more we keep talking about it, the more the conversation is going to change positively. You rock Karl!