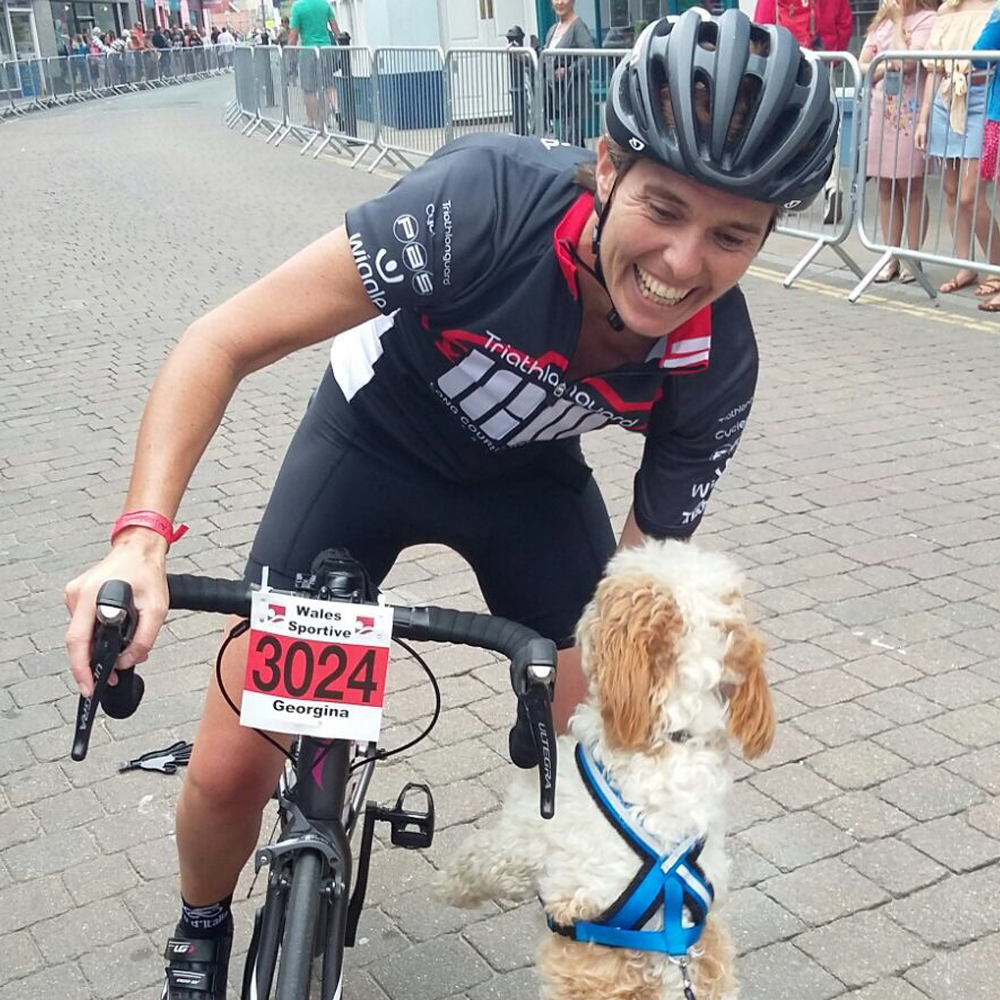 I write this having just completed a brutal hilly 66 mile cycle to add to yesterday's 2.4 mile sea swim. Tomorrow, I will run a 10K with my parents (first timers), all part of Tenby Long Course weekend.
Over the last 15 months exercise has become very important to me and as someone who suffers from a mental illness it has become an excellent form of therapy. Tenby is a special place to me; it is where I grew up, and even though I no longer live here it is where I call home. Taking part in the 3 events over the 3 days is significant in many ways. Last year I signed up to do the swim, bike (112 miles) and the half marathon, when my head was in a dark place.
I had just been promoted to temporary Inspector after 15 years as a Detective Sergeant with South Wales Police, however I had also recently failed IVF treatment earlier in the year, and my marriage was falling apart. I was ploughing all of my energy into getting a substantive promotion, however in March 2016 I did not get through the Inspector interview process. I already saw myself as a failure with the IVF and marriage, and for me this felt like the final straw. I spoke to my GP and was signed off work, initially with exhaustion, but this later changed to depression, stress and anxiety. I was horrified to be taking time off work and only thought it would be for a week or two. How wrong was I? I write this 15 months later having only  recently returned to work.
I did not want to spend time at home and I isolated myself from friends and family – exercise became my way out and I signed up for the Tenby Long Course weekend. I put myself on a strict training plan, and spent hours in the gym, pool and out on the roads – it became an obsession, and addiction and maybe now, looking back, I see this as a form of self-harm. At the event itself I fought against myself to complete the distances – I was angry and annoyed with myself when I opted for the shorter 66 mile bike ride over the 112 mile distance on the day.
Now I can see that I had not failed.
In the summer of 2016 I responded to an advert looking for people who wanted to take part in a BBC documentary about exercise and mental health, with the goal of running the 2017 Virgin Money London Marathon. When I was invited to be part of the documentary, my life began to change.
I began a structured training programme under the watchful eye of the coaches. I began to look at exercise differently and started to enjoy it again. Instead of spending hours training, I concentrated on core exercises and running technique. I also began talking openly about what I had gone through and how I was feeling – not only to the camera crew, but also to my family and friends.
I found both exercise and talking to be therapeutic for me and have become very passionate about both.
Completing the London marathon was one of the best days of my life. It was a huge sense of achievement as at one point I thought I would never be able to run again.
People who knew me kept asking what time would I do it in, but for me, this run was not about the finishing time, it was not about being unkind to myself and pushing hard, it was simply about getting around with a smile on my face, and having fun with others.
That is exactly what I did. I was running with some fantastic people, raising money for Heads Together and crossing the line of the London marathon with my team mates was truly remarkable.
Along this journey I have met some incredible people. I will never forget the lovely words said to me by The Duke and Duchess of Cambridge and Prince Harry. The compassion and understating from Nick Knowles and the others who were part of Mind Over Marathon. I seriously owe these guys my life.
That brings me back to the significance of today. Today, once again, I didn't complete the full 112 miles on the bike – instead, as I did last year, I opted for the 66 mile route. Twelve months ago, I beat myself up over this, but today, I'm celebrating my achievements. Tomorrow, I will be on the start line with my parents who will take part in their first 10k, inspired by my achievements and Mind over Marathon. I will be running alongside them, not going for time but just having some fun.The power of movement is a tremendous medicine.