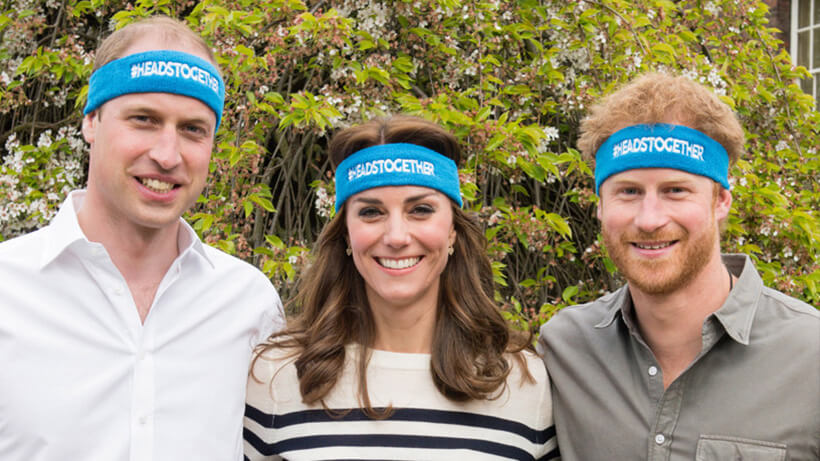 About Heads Together
Through our work with young people, emergency response, homeless charities, and with veterans, we have seen time and time again that unresolved mental health problems lie at the heart of some of our greatest social challenges.
Too often, people feel afraid to admit that they are struggling with their mental health. This fear of prejudice and judgement stops people from getting help and can destroy families and end lives. Heads Together wants to help people feel much more comfortable with their everyday mental wellbeing and have the practical tools to support their friends and family.
Being the 2017 Virgin Money London Marathon Charity of the Year was the perfect springboard for the Heads Together campaign. Seeing hundreds of runners hitting the streets of London during the marathon to end the stigma and change the conversation on mental health once and for all was incredible!
The Duke of Cambridge
The Duchess of Cambridge
Prince Henry of Wales
The Duke and Duchess of Cambridge and Prince Harry are spearheading the Heads Together campaign to end stigma around mental health. Heads Together aims to change the national conversation on mental health and wellbeing, and is a partnership with inspiring charities with decades of experience in tackling stigma, raising awareness, and providing vital help for people with mental health challenges.
There has been huge progress made to tackle stigma surrounding mental health in recent decades, but it still remains a key issue driven by negative associations, experience and language. Through this campaign, Their Royal Highnesses are keen to build on the great work that is already taking place across the country, to ensure that people feel comfortable with their everyday mental wellbeing, feel able to support their friends and families through difficult times, and that stigma no longer prevents people getting help they need.
They are privileged to be working with partner charities who have achieved so much in tackling stigma, raising awareness, and providing vital help for people with mental health challenges. The team of charity partners working on Heads Together covers a wide range of mental health issues that are close to The Duke and Duchess and Prince Harry's passions. They are:
There are a number of ways to get involved, show your support for the campaign and help us start millions of conversations on mental health. Visit the 'Get Involved' section to see how you or your organisation can support Heads Together and sign up to join the campaign and be kept up to date here. Our runners have raised vital funds and awareness for our charity partners and played their part in starting conversations on mental health with their friends, families and workmates.